Shopping Cart
Your Cart is Empty
There was an error with PayPal
Click here to try again
Thank you for your business!
You should be receiving an order confirmation from Paypal shortly.
Exit Shopping Cart
"Yes, farming kicks your ass daily, and no matter how difficult a day you have, you still wake up the next morning wanting to do it all over again. When there are times you want to throw in the towel, remember you are not just a local hero, but a global hero, because it is small scale sustainable farmers like yourself that make a difference in the world and may potentially save it." - Jen Murray
Two winters ago I read an article in the paper about a hidden farm in Smithtown. I thought it would be a wonderful place for painting and went about the task of finding the owners to gain permission to paint there. They were wonderfully obliging and told us that we would meet their tenant farmer.
Going there, we stepped back in time one hundred and fifty years.
Sheep grazed on low rolling hills. A horse lazed in it's paddock while sparrows darted in and out of the stables, tending to the task of feeding their young. Chickens pulled worms from the soil under the tallest of oaks. Pigs called noisily to be fed and cats peeked from the cow shed. I and my fellow artists were the oddest animals they had seen: pulling carts, wearing big hats, waving sticks about and staring rudely.
Over a rise bounded Lily, a wonderful American farm dog, she welcomed us warmly as did her owner.
The woman who was responsible for this tableau is Jen Murray. She is like a reed, slender but so very strong. She has an easy smile and a warm heart.She taught me without words what it was like to be a local farmer. To care for your animals and earth before you care for yourself, to accept the trials of stewardship with grace and to rejoice in nature's gifts.
Jen is a farmer. Her animals do provide sustenance to others, their lives do end, but with kindness and mercy and respect.
This past autumn Jen was offered a position to manage a farm out east. It meant a lovely home for her and her son James and all her animals and a welcoming community of farmers that cared as deeply about farming as she did.
To me, it meant saying goodbye to our hidden farm as it would not be the same painting there without her.
Tell Lily, I'll see her this summer.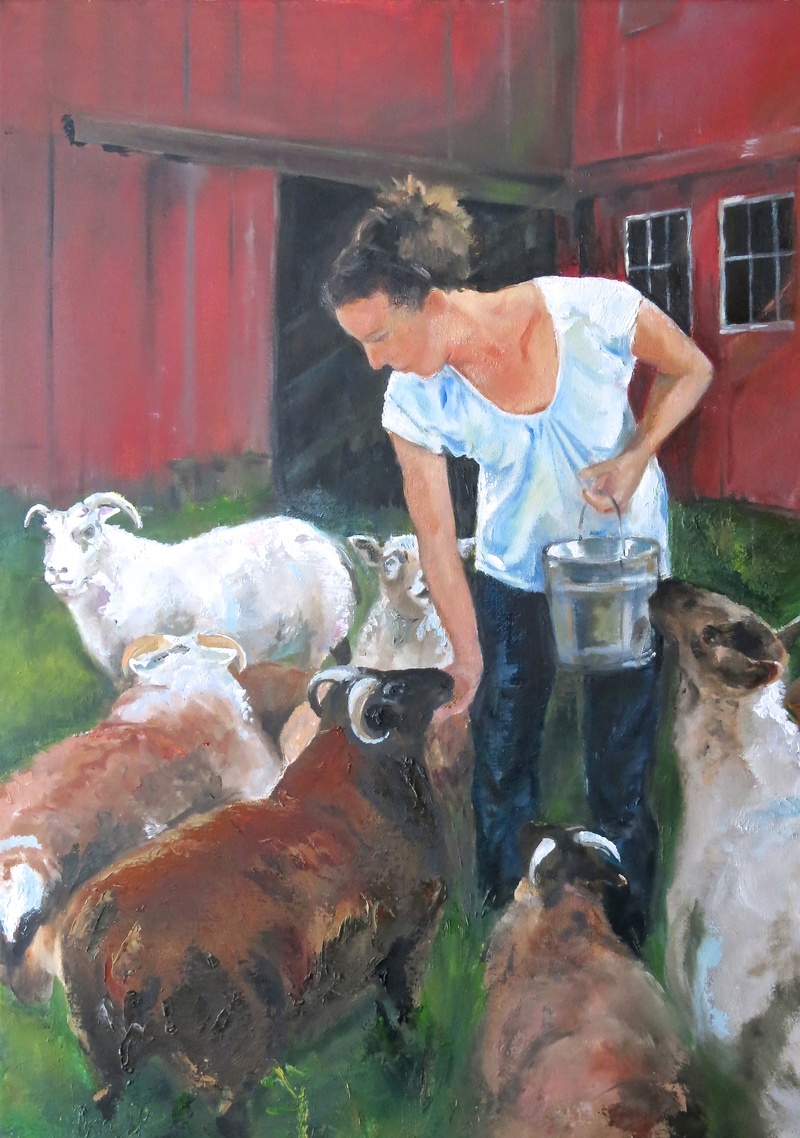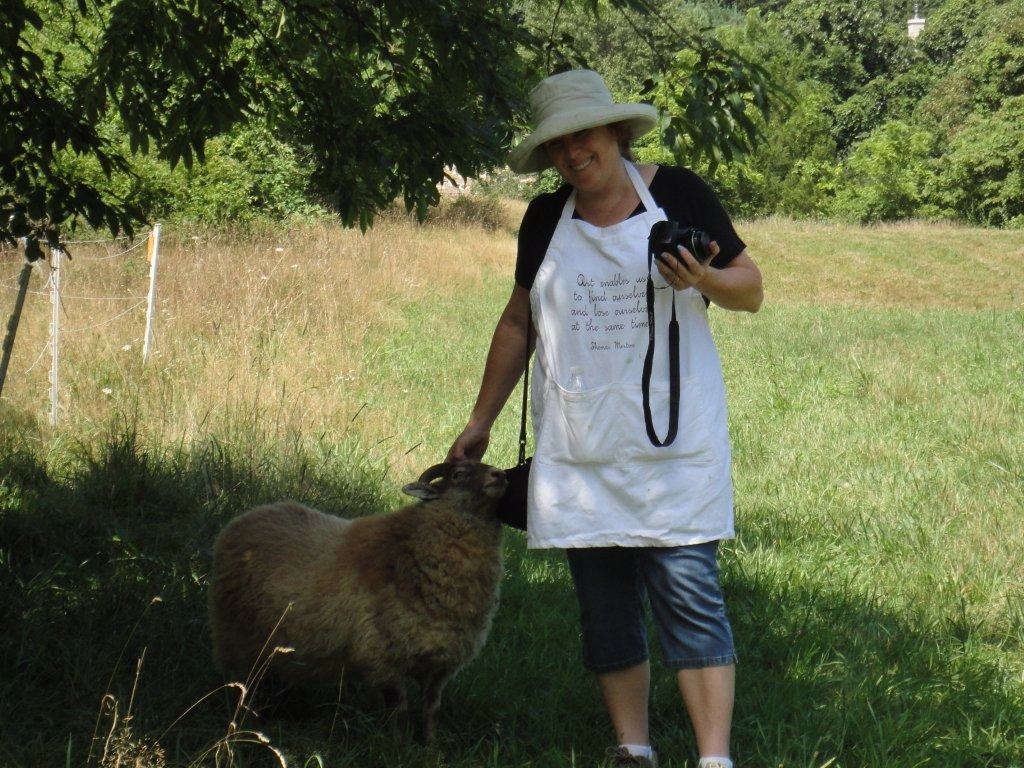 I hate artist statements. This is mine, what I send to exhibits:
I am a retired master gardener and new to painting.My education in art began several years ago with the gifted artist Kevin McEvoy.Mr. McEvoy studied at the Charles Cecil Studio in Florence, Italy and has shared his knowledge and training with his students at his atelier in Islip, New York.
I am inspired and drawn to American artists: Sargent, Beaux and Homer count among my most cherished. I hope to capture the human spirit, the unique character and spark of the individual. I want to tell a story.
I continue to study with Kevin McEvoy and Nanette Fluhr and a group of dear friends and fellow painters who are a joy to be with. We share our victories, our foibles and our turpenoid. I am fortunate to have them and this lovely island to live on.
I enjoy painting in much the same way I enjoy working in the garden. I revel in the process; observing, realizing, and growing with each success and failure. I take joy in simple objects and delight in finding their secrets and high notes, endeavoring to capture them when I put brush and paint to canvas.
In short:
I like to paint. I like faces. I like land and water and sky. I like crusty old stuff. I like to paint.
I'll be posting some of my old blogs so I can trace my beginnings. You are invited to read them if you like. No worries.
/