Shopping Cart
Your Cart is Empty
There was an error with PayPal
Click here to try again
Thank you for your business!
You should be receiving an order confirmation from Paypal shortly.
Exit Shopping Cart
My husband and I share our home with three cats. Each of them has their own little lives, likes and dislikes, preferences and peeves. They are as different in temperament as they are in looks.
Our dowager countess is a maine coon named Rocky.
Her name does not fit her. My husband has nicknamed her "Esmeralda" and that fits because she is still wildly beautiful and quite exotic. She is rickety and rusty at fourteen years. She does not suffer fools gladly and considers the "boys' quite foolish. Her vocal cords were injured during a surgery so her voice is raspy and harsh like an aging film star that smokes too much. Like Greta Garbo, "she wants to be alone".
Except for the days when I climb the stairs to my studio.
On those day R comes into the room and waits impatiently while I put a drop cloth on the chair. Sometimes she climbs up by herself, most days she mews until I sit and coax her to my lap. She is painfully arthritic and a bag of bones. Her luxurious ruff is gone and she wheezes as she purrs.
After a while I get up and gently place her back on her chair. She sits there, listens to the music playing, watches me work.
We are both content, my companion and I.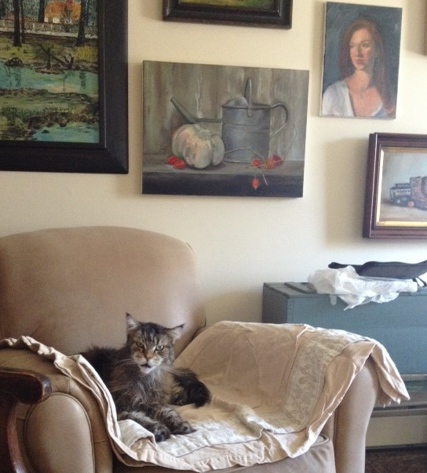 I am working on a painting of a lovely greyhound. He has a beautiful brindle coat and a grey muzzle that belies his age. He is not well and I worry for him. I have studied him for so many weeks now. There is such beauty in him.
I say a prayer that my brushwork captures his spirit as much as it possibly can. I look at my cat and smile and will comply with her demands to be coaxed and pet as long as she wishes. She is my muse, after all, my companion.
Categories: None
/